Agreeing to Remember (2017-10-14-SAT)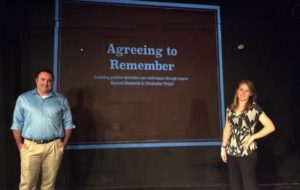 Agreeing to Remember is a unique workshop for caregivers and loved ones of those affected by dementia which uses principles of improvisation as its base.  Learning to go with the flow and accepting others' realities goes a long way in dementia care as well as performing improv.
This fun and educational workshop taught by Rachael Wonderlin and Christopher Wright brings the two together to create a unique approach to caring for patients or loved ones who are living with Alzheimer's and other forms of dementia.
Our goal is to bring people who are experiencing the same hardships together for socialization, learning, and laughs.
Check out Agreeing to Remember on Facebook or their website: agreeingtoremember.com.
Date and Time: SATURDAY, OCTOBER 14 at 1pm-330pm
Location: Steel City Improv Theater at 5950 Ellsworth Ave, Pittsburgh, PA 15232
Tuition:   $40.00 ( or $35 before September 30th)
Prerequisite:  None.